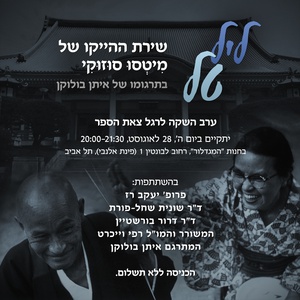 from ZENSHIN EITAN BOLOKAN

Department of East Asian Studies
Tel-Aviv University, Israel.
I want to express my deep condolences for the passing of the beloved Suzuki Mitsu sensei.
Her tender and wise teachings will always resonate in my heart.

I am happy to tell that the Hebrew translation of Temple Dusk has made the name Suzuki Mitsu a known one in the Israeli circles of poetry, Haiku, and Japanese culture in general. Her graceful art lives now also in the heart of many Israelis.