---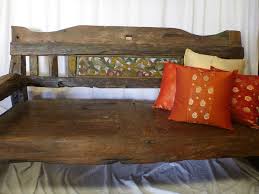 I like what Katrinka calls our setee,
like a sofa with a wooden back and arms - long enough to lie down on and deep enough to sit cross-legged and work, laptop on top of a cushion. Like the photo but bigger, with a soft thin mattress and thick rounded arms. I was sitting there the other day when a small biawak, monitor lizard, walked in. Maybe sixteen inches long. I yelled at it to go out but that just scared it to run straight ahead. I guess it's still here. Katrinka says she hears it behind the kitchen sink cabinet. Ketut, Wayan and I are going to try to shoo it out on Sunday when they're both working here. They aren't dangerous - the biawak.
See Saunters post of 12-08-14.
- posted in Saunters
---